WHY CHOOSE TERRAZZO NETWORK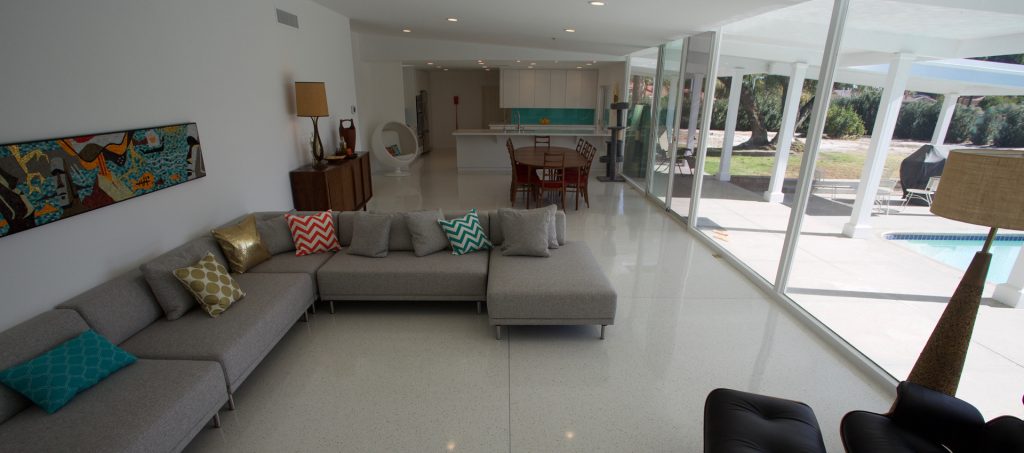 OUR PURPOSE
The Terrazzo Network is an independent online resource dedicated to the art and science and education of terrazzo flooring. The Terrazzo Network's mission is to educate Architects, Designers, Contractors, Facility Owners and Homeowners on the most current and unbiased information regarding the design, installation, and care of terrazzo flooring.
YOUR ONLINE RESOURCE CENTER
Nearly all of the information on terrazzo flooring found on the internet is found on the proprietary websites of material suppliers, contractors, and contractor member trade associations. The Terrazzo Network offers the most complete independent online resource for information about terrazzo flooring, installation and design, including technical information, photographs, a directory of terrazzo installers and product suppliers.
The terrazzo network can be used as an educational tool; as well as the starting point of bringing together technology and skilled craftsmen to create the artist's vision in the form of terrazzo flooring.
Working with architects, designers and installers to bring all of the terrazzo decorative components together to create unique color designs and conceptual art. The possibilities are limitless.
The vision, combined with the skilled craftsman's creates artistic, sustainable floors with advantages unparalleled in any other flooring finish.
Integrated efforts of superior craftsmen with quality products provide for endless design capability, allowing designers to fulfill their visions.
Terrazzo is ecologically smart, terrazzo offers materials to the industry which are green building efforts. Additionally, terrazzo dates back hundreds of years. Making terrazzo one of the oldest sustainable floor systems in human history.
The ability to hold up to the highest amounts of foot traffic has earned terrazzo floors a place in airports, schools, casinos, amusement parks and other high traffic locales.
The Terrazzo Network provides terrazzo information for installers and material suppliers all over of the country.

The Terrazzo Network purpose is to educate homeowners, contractors, builders, and designers on popular terrazzo design, techniques and applications. With thousands of articles, photographs, and a growing directory of contractors and product suppliers.
The Terrazzo Network offers the most comprehensive online resource for independent, authoritative information about terrazzo construction, Terrazzo flooring, cleaning, repair and maintenance, general terrazzo construction home and commercial building remodeling with terrazzo, green building with terrazzo.

The Terrazzo Network is truly an independent voice of terrazzo. We do not endorse any specific products. We do give appropriate credits to the contractors, and manufacturers, whether they are a client of The Terrazzo Network or not.
The Terrazzo Network was founded by a group of terrazzo contractors and suppliers realizing that the industry was needing to be exposed with new innovations in marketing.
We set out to organize ways that interested consumers, builders, designers, and terrazzo contractors. Our goal is to provide accurate and useful information in an easy to navigate and understand format.
If you have any questions, just fill in the contact form, and we will answer you shortly.
Frequently Asked Questions
WHAT COLORS DOES TERRAZZO COME IN OR HOW DO I PICK A COLOR?
Depending on the type of terrazzo, it can be just about any color. Pick a matrix/binder color from a paint color fan deck. 
The aggregate can be selected from a wide variety of aggregates. Contact us if you need help with this process.
CAN ALL TERRAZZO FLOORS BE REPAIRED AFTER THEY ARE INSTALLED?
Yes, they are made of epoxy or cement materials with various aggregates such as marble, glass etc.
It is recommended to find a contractor that knows how to work with color and resins for perfect match. This takes great skill.
HOW OFTEN DOES TERRAZZO NEED TO BE REPLACED?
A terrazzo floor generally lasts the life of a building. Unlike other flooring systems such as tile, vinyl flooring or carpet, terrazzo will not wear out and require replacement. 
Terrazzo has been around for hundreds of years.
WHAT ARE THE MAINTENANCE REQUIREMENTS FOR TERRAZZO?
Terrazzo is simple to maintain. Requiring occasional sweeping, mopping, and buffing. 
Periodic resealing of a terrazzo floor is recommended to maintain a better looking floor.
CAN A CRACK THAT RUNS ACROSS ONE SIDE OF THE FLOOR BE FILLED IN?
Yes. When a concrete foundation settles, the foundation can crack. The crack can be filled with a matching resin color, grinding it down smooth and restored to a like new appearance.
DO YOU HAVE MORE QUESTIONS?